MIT CTL "Future of Retail" Roundtable – insights summary 14 and 15 November, 2018
Across the globe, data show that retailers have been changing rapidly due to multiple factors. First, high population densities in urban areas limit the areas in which large retailers can be built, forcing market players to open small, easily accessible retail stores. This, in turn, causes the fragmentation of urban distribution networks, leading to frequent deliveries in smaller volumes and increased logistics costs. In addition, the evolution of the retail footprint depends on diverse consumer socioeconomic backgrounds and profiles, and other trends. These factors should be used to design tailored logistics strategies, high-performance retail operations, and collaborative supply chains. This strategy will couple the dynamic retail environment and help stakeholders achieve a long-term competitive advantage.
Digital transformation and collaboration
Next step in Digital Transformation: Challenge collaboration through value sharing and trust!
The research team of MIT Digital Supply Chain Transformation participated in the "Future of Retail" Roundtable to discuss these challenges and how to incorporate digital transformation for the future.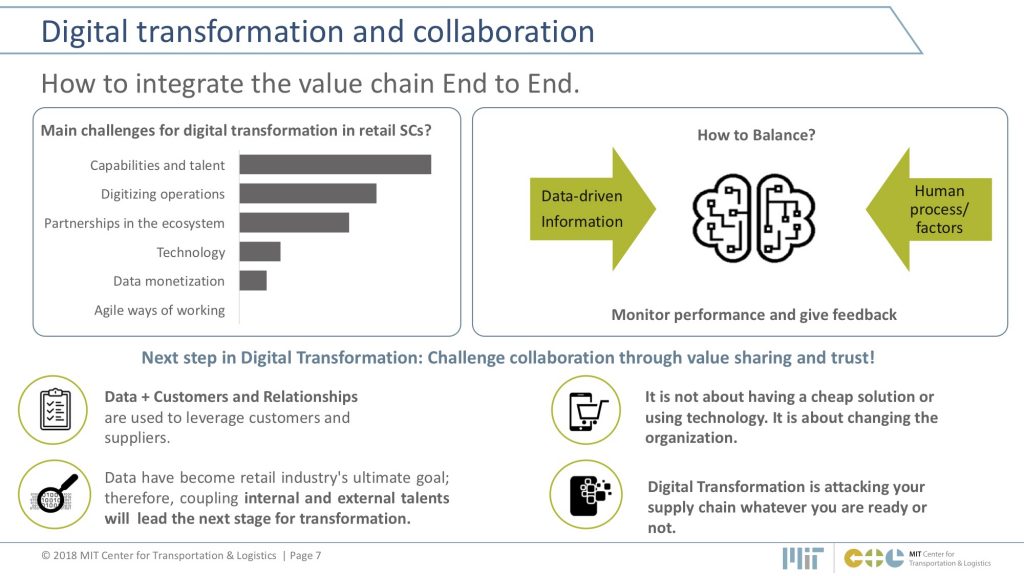 MIT CTL Supply Chain Exchange Roundtable
This MIT CTL "Future of Retail" Roundtable was exclusively for members of the MIT CTL Supply Chain Exchange and invited guests. If you are not a member of the Supply Chain Exchange and are interested in attending more of our upcoming roundtables, please reach out to Katie Date at datecl@mit.edu.