The MIT Global Supply Chain and Logistics Excellence (SCALE) Network organized a Research Expo at the end of January. At the Expo, the students have presented their research projects that they have been conducting during their studies in the Supply Chain Management program.
Our students, Sara Gallo, Anais Ortega, and Ye Ma, have presented their projects on Digital Supply Chain Transformation. Sara and Anais have introduced their projects titled "Manufacturing Digital Transformation Strategy for a Fast-Moving Consumer Goods (FMCG) in Latin America." Their study focuses on creating a successful digital transformation strategy for the 52 manufacturing plants of the sponsor company through clustering analysis considering technical, organizational and external similarities. For more information.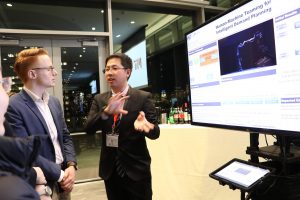 Ye Ma has presented his project titled "Human-Machine Teaming for Intelligent Demand Planning," which examines how different human-machine decision-making structures improve the demand forecast accuracy through empirical analysis. The demand forecast is an essential part of the supply chain management system for companies operating their business within the cut-throat competition. In large scale FMCG companies under the e-commerce domain, demand planners need to consider many factors to determine how to adjust the demand plan according to the company's national plan and the specific key customer's demand signals. For more information.